"Comparison is the thief of joy"
Theodore Roosevelt
Hi Kathleen
Have you ever wondered when the saying 'the grass is greener on the other side' came into being? Well, I've just seen there is a Grass is Greener Syndrome! It describes people who leave relationships thinking it's better out there and are then disappointed!! We've even got a modern version "FOMO" which most have us have fallen victim to at some time... or, in my case, often, I have to confess!
In my leadership coaching practice and in my own life, I've noticed how comparing ourselves to others is generally less than helpful. This is an understatement for sure, because most of us come off in second place, third place - or lower! This does little for our motivation and self belief.
In this issue, we are going to explore Pillar 2 in my 4 Pillar model:
Believe in You: Now You Can Stop Comparing & Start Owning Your Authentic Leadership Style.
You may have a role as a leader in the workplace, in your community, and you are certainly are a leader in your own life and within your family. What follows here is relevant for us all.
In closing, I would like to share a message I was delighted to receive from a reader of my last newsletter which focused on Pillar 1: Act With Care. "This email was beautifully coded into my day but I did not take the time to read it until this evening. Had I read it before I started my day I would have stood taller and stronger when I heard the words."
I hope as I write these newsletters that my words will be of benefit - and it's wonderful to know when they have landed and prompted thought.

*Feel free to share this newsletter...
**And, If it was forwarded to you, please sign up to receive your own. Subscribe here.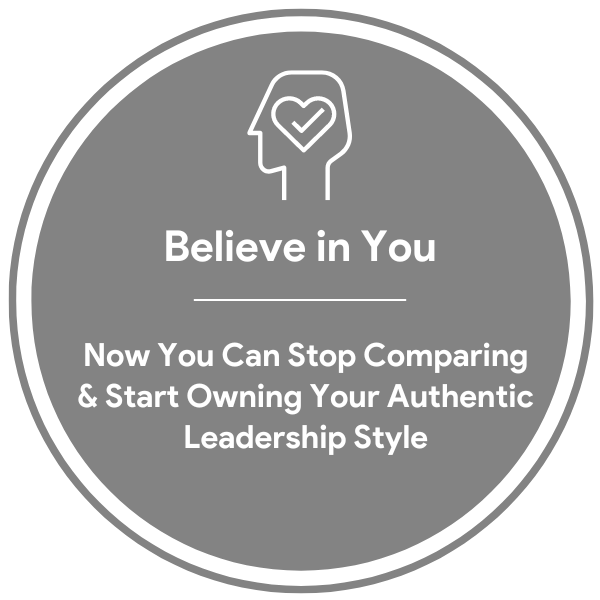 Believe in You
Now You Can Stop Comparing & Start Owning Your Authentic Leadership Style.
Over the years as a Management & Leadership Skills trainer, I've shared various assessments and frameworks of leadership such as the Blake Mouton Inventory which compared our Concern for People with our Concern for Results and Performance - both key in the workplace and in life.
While it was adapted over the years, the last version I used had very evocative terms: Sociable Management, Management by Rule and Consent, Collaborative Team Management, as well as two extremes: Impoverished Management and Authority-Submission.
While I'm guessing that there is still a place for inventories such as this one, the leadership landscape has changed greatly through the work of Brené Brown and others. She says:
"When we combine the courage to make clear what works for us and what doesn't with the compassion to assume people are doing their best, our lives change."
Brené Brown: Leading by Example
What I've learned from Brené Brown tells me it's not about comparing ourselves to others - which we know is not helpful anyway - but it's about becoming a Brave Leader whether it's leading others or ourselves. Referring to her key ingredient of vulnerability, Brené recently spoke in Harvard Business Review 'The Best Leaders Aren't Afraid to Be Vulnerable' by Janice Omadeke (July 22, 2022)
Today, as the "future of work" becomes the present, and employers and employees push and pull against the needs of the other, the importance of open and candid communication is clear. Over the years, we've learned that leaders who create the space for true vulnerability build psychologically safe work environments in which people feel welcome to be themselves. We've learned that when people are willing to be authentic at work, they're also more willing to take creative risks, share their perspectives without fear of a consequence, and make valuable contributions that can only be expressed within a culture that values trust and inclusion.
She says Leading by Example is central to leadership - which is a far cry from both the Impoverished and Autocratic styles. It also differs from the inner Judge comparing and wanting me to be like others and not valuing myself. Brené gives two ways to do this:
Be honest about your struggles - to myself first of all, then to others.
The 'be strong' culture has been proven to be toxic and damaging to everyone. We all benefit from sharing with others and there is an abundance of evidence now to show that the 'kind' workplace which encourages open sharing of difficulties is what works. We've all had the experience of thinking we were alone in a struggle only to find when shared that others felt the same way - and were grateful when we opened up. It takes courage to be vulnerable, but the alternatives are not healthy.
Dan Cable refers to Confident Vulnerability demonstrated in three ways:
Through the language of learning - seeing mistakes as learning opportunities and encouraging honest discussion. (A side step here as I remember a course participant years ago telling the group the first thing she learned in a new job was how to cover up mistakes!)
Being open about our own developmental journeys - the challenging times as well as the successes. This increases psychological safety which pays dividends.
Showing moral humility - how needed is that as we struggle sometimes with ethical issues and work practices that are not moral? An open discussion and showing some imperfection speaks volumes to people.
Do the difficult thing, even when others are hesitant
Actions speak louder than words ALWAYS! Back in my Montessori days I learned how children follow what adults DO not what they SAY. Now I know that in communication the impact of Non-Verbal to Verbal is 80% to 20% - kind of scary given I and probably you often don't know what our body language is communicating.
This also challenges us to be open about controversial issues, calling out racist or stereotypical 'jokes' as being unacceptable and promoting equal opportunities. The workplace would benefit from leaders checking in with staff in difficult or 'bad' moments in society and raising issues like Climate Change. Brené highlights an interesting potential benefit:
"Teams who feel safe expressing themselves in these vulnerable moments will similarly feel safe disagreeing and bouncing ideas off one another when solving problems in the context of work, leading to more valuable, inclusive, and unique solutions."
And on a personal level...
Those of you who are not leaders in the workplace may be wondering how this applies to you? Everything I've written applies to personal leadership too. I think this definition makes a strong case:
Personal leadership is the ability to develop and utilize your positive leadership traits to guide the direction of your life instead of letting time and chance determine your course.
It's Time to Believe™ in ourselves and it's time to let go of those unhelpful comparisons and old judgments. We owe it to ourselves!!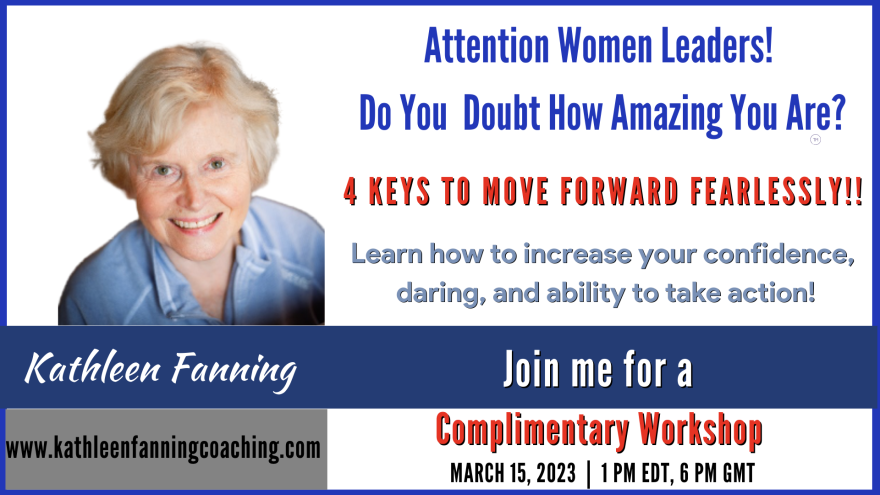 Does everyone believe in you but you? Are you a successful senior leader, yet still experience self-doubt? You're not alone!

As a worldwide leadership coach, that's exactly why I created the Four Pillar Coaching Program to help leaders like you build your confidence and eliminate self-doubt.
Please join me on March 15th (1pm ET, 6pm GMT) for my complimentary workshop 4 Keys to Move Forward Fearlessly!!
Learn 4 proven pillars to shift your confidence, daring, and ability to take action!

Click here to register


Resource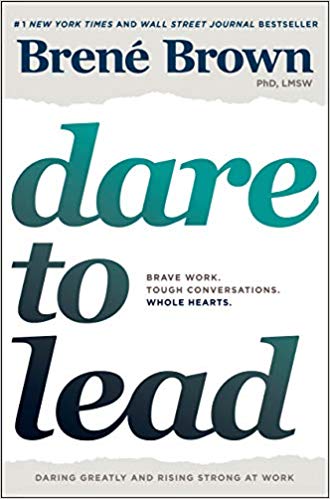 Check out her book here: Dare to Lead: Brave Work. Tough Conversations. Whole Hearts.
"Courage is contagious. A critical mass of brave leaders is the foundation of an intentionally courageous culture. Every time we are brave with our lives, we make the people around us a little braver and our organizations bolder and stronger." Brené Brown.

Connect with me
To learn more, visit my website, Kathleen Fanning Coaching - Invest in Yourself here:
www.kathleenfanningcoaching.com
You can also email me directly: kathleen@kathleenfanningcoaching.com

Social Media

Click here to subscribe to my newsletter